A sudden outbreak of the COVID-19 epidemic has left many companies on the verge of bankruptcy. Operators are looking for a way out. The tourism, catering, and film and television industries are facing huge crises. A sudden epidemic changed our pace of life. We no longer go to restaurants but use delivery services to order semi-prepared foods to cook at home. Even local corner shops have adapted to the online business model of selling their goods on delivery platforms. The virus has caused consumers of all age ranges to move online, regardless of their previous shopping habits. Medical services are also moving online, to ease the population's anxiety and speeding up the time it takes to see a medical professional. The online activity space will become the main channel of choice for the public to live, study, and work.
Thus, more brand trademarks related to traditional industries and businesses will be applied in the Internet field. Some companies with strong awareness of online brand protection have begun trademark registration and trademark monitoring in related businesses.
For example, Beijing Sankuai Technology Co., Ltd., a subsidiary of Meituan (one of China's top delivery services), recently added registration information of multiple trademarks under Internet-related categories 39, 41, and 43.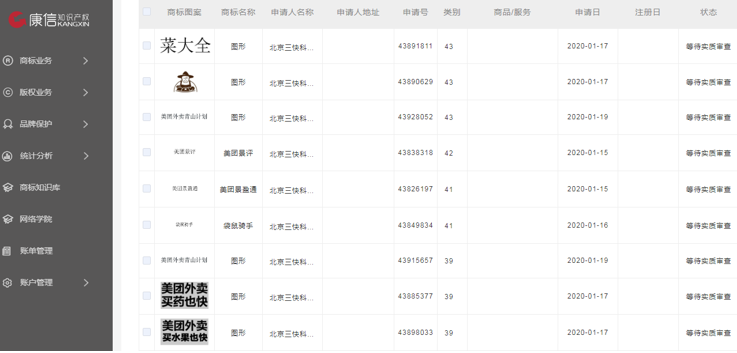 At the same time, with the rapid dissemination of Internet information and the development of emerging technologies, the risk of infringement of corporate brands and trademarks will increase. If companies want to maintain their online reputation and brand protection, they must take a certain amount of online rights protection monitoring and anti-counterfeiting measures. Such as: monitoring e-commerce platforms, websites, product images, and even domain names that may cause infringement on their own brands or trademarks.
Kangxin's IP platform is based on Kangxin's 26 years of rich practical experience in the field of intellectual property, and uses advanced technical methods to help customers carry out online trademark application registration, trademark renewal, transfer, litigation, opposition, etc., brand protection and anti-counterfeiting monitoring, At the same time of copyright protection, it also allows users to achieve one-stop comprehensive management of intellectual property rights through simple online operations.
One-stop global trademark management
Kangxin's IP platform uses advanced AI technology, global trademark big data that keeps pace with the times, and provides enterprises with the management and protection of the entire life cycle of trademarks.
Trademark monitoring uses big data + AI technology to perform multi-class monitoring across newly published gazettes from the Trademark Office. Clients can find marks similar to those they seek to protect quickly and accurately. The monitoring services provided by Kangxin's IP platform can not only monitor word marks, but also use AI recognition technology to quickly achieve similar device trademark monitoring. Early detection of trademark "free-riding" or risk of infringement, reduces the cost of rights protection in the future.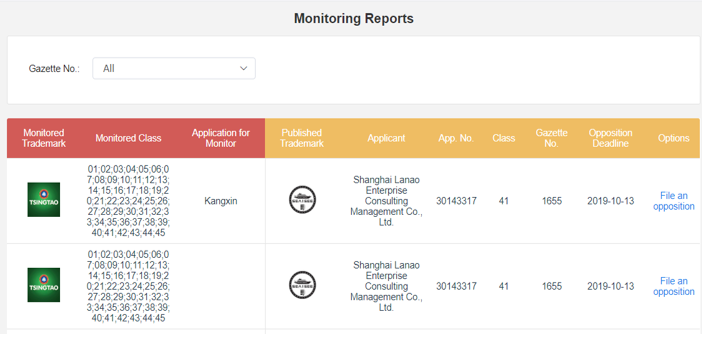 Trademark transfer provides online screening of the trademarks you want to transfer - the platform applies AI technology and big data analysis to automatically recommend similar trademarks on the same similar goods under the trademark owner's name to ease the transfer process.

If you want to submit a trademark cancellation request, use the three-year non-use cancellation trademark service on Kangxin 's IP platform. The system will automatically help clients fill in more professional and targeted reasons for cancellation and improve the approval rate.
Trademark clearance search, trademark registration, trademark renewal, review of refusal, trademark assignment, trademark opposition... Clients can experience one-stop service for trademarks on Kangxin IP service platform, making trademark management as simple as ordering your dinner online.
Brand protection-24/7 monitoring to accurately capture infringing goods
The brand protection function of Kangxin's IP platform can provide monitoring of e-commerce marketplaces, domain names, images, and websites, and use advanced technology to help customers provide better brand protection.
E-commerce marketplace service can monitor over 140 e-commerce platforms worldwide including Alibaba, Amazon, JD, and others. After the client creates an order online, the Kangxin IP service platform will provide evidence preservation and feedback to the customer of counterfeit, plagiarized, and pirated goods found on these e-commerce platforms. If the customer needs it, he can file an objection online and the Kangxin legal team will take further rights protection measures, such as complaints, online and offline joint evidence collection, and rights protection lawsuits.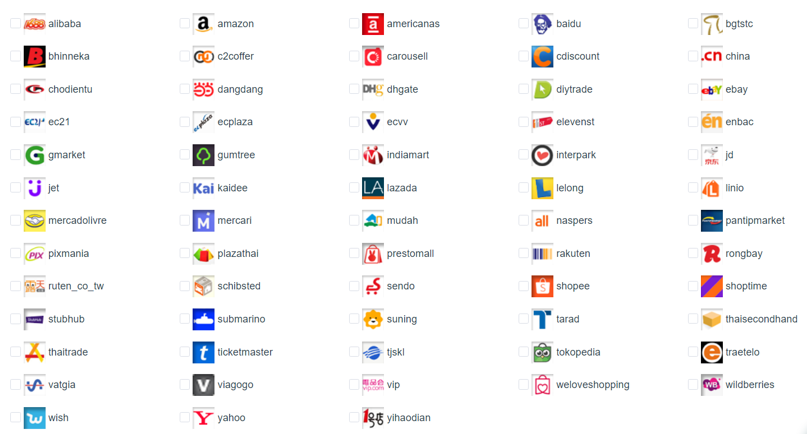 The domain name monitoring service responds to the "stolen" encounters of many brand website traffic, catches fake and similar domain names throughout the web, and saves the feedback of the monitoring results to customers in order to achieve customer brand protection.
The necessary measures to realize intellectual property protection, such as image and website monitoring, can be realized online, using Kangxin IP service platform。
Copyright service - trusted time stamp certification completed in seconds
Original works need copyright protection, and Kangxin IP Platform provides clients with time stamping services, and can quickly complete copyright protection certification online.
The author of the work only needs to upload the work and related information, and the platform will immediately generate a time stamp certificate to prove the time of creation and the integrity and authenticity of the contents. The operation is simple and fast, so that every achievement can be protected by copyright.
Kangxin IP Platform with advanced technology such as AI map recognition, intelligent retrieval, big data analysis, and professional legal services is convenient and easy to use. It is stable and available 25/7 and can satisfy clients all over the world. The requirements of property rights management and protection can be easily completed even for those who might be protecting their IP for the first time.
Under the epidemic situation, you can use Kangxin IP Platform to easily realize the management and protection of intellectual property rights. Contact us at tm@kangxin.com with more questions, and begin your free trial now at eservice.kangxin.com