The COVID-19 pandemic, quickly approaching the one-year mark since it began its global march, has affected all aspects of businesses, grounded flights and slowed down the movement of goods across borders. One way to measure the impact of the virus on businesses is their trademark filing statistics – in which sectors have brands slowed down? Which were considered important enough to continue innovate in? Trademark filing statistics in US, China, and Europe can help us understand the general trends in the past year.
(All tables and data are courtesy of Kangxin IP Platform Data Analysis service)
Filing Statistics – China, US, Europe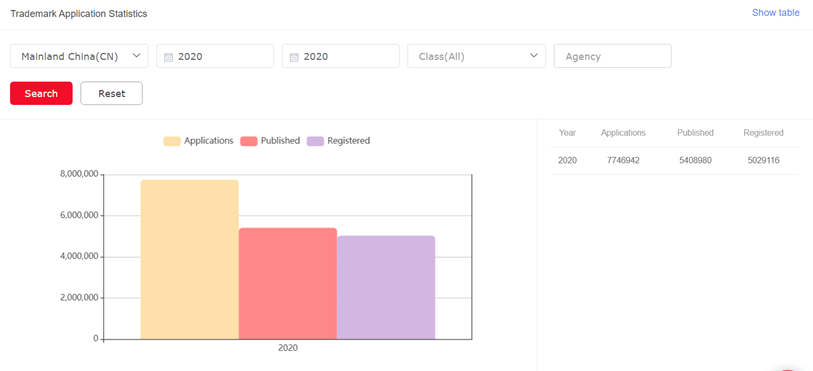 In China, from January 1, 2020, to November 20, 2020, 7,746,942 applications were filed, 5,408,980 marks were published, and 5,029,116 marks were registered. Compared to data from 2019, where a total of 8,001,254 applications were filed, 6,007,609 were published and 6,235,991 were registered, the impact is most visible in the registration numbers, with the difference of almost one million marks.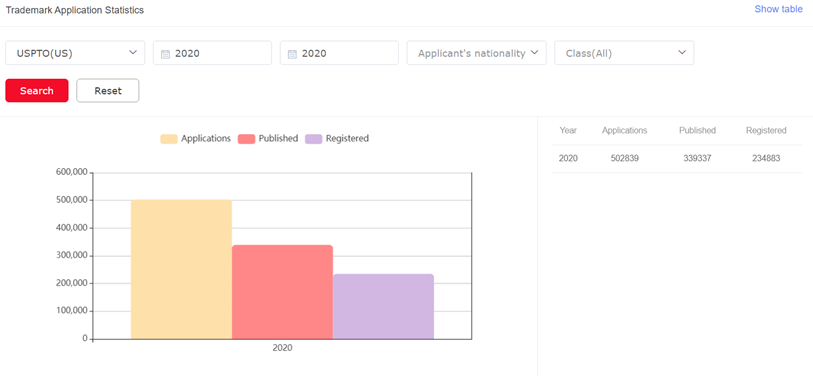 Over the same period, the USPTO saw 502,839 applications filed, published 339,337 and registered 234,883 marks; curiously, in the pervious year, USPTO saw a smaller number of applications (494,667), published 401,480 marks and registered 312,101 marks. Again here, as in China's data, the biggest impact is seen in the number of registered marks. The increase in the number of applications is part of a general trend where each year the IP office sees more applications as businesses continue to expand.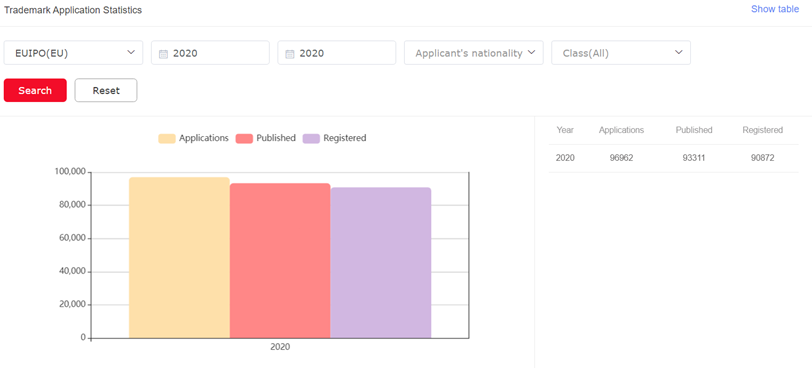 In the EUIPO, the numbers are as follows – 96,962 applications, 93,311 marks published and 90,872 registered. Compared to 2019, where applications numbered at 108,758, published marks stood at 106,466 and a total of 97,753 marks were registered. Unlike in the US and China, the number of registered marks did not change much year-to-year at the EUIPO.
Overall, the numbers are not as dramatic as one would expect, considering the global economic situation. Although individual workers in some industries are suffering regardless of their geographic location, the trademark filing data trends across three of the biggest IP markets suggest that businesses continue to march forward, planning for the protection of new products.
Top classes for filers
Let's explore the statistics a bit more in depth to see which business sectors are expanding or suffering.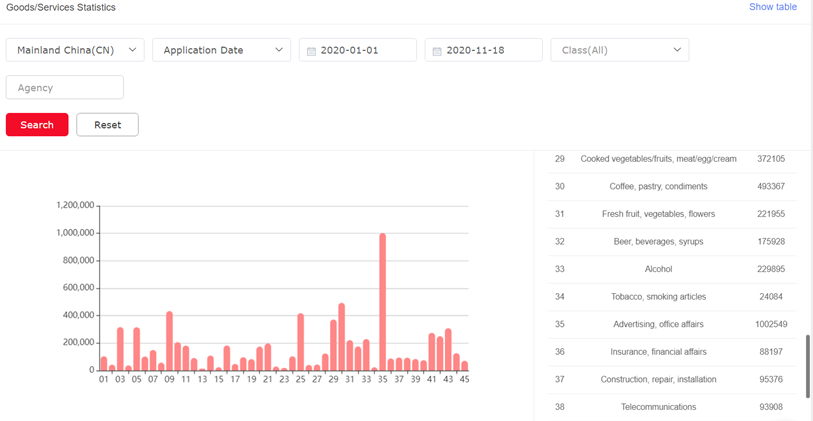 Data from CNIPA shows that in the year 2020, the three most sought-after classes are 35 (Advertising, office affairs – 1,002,549 applications), 30 (Coffee, pastry, condiments – 493,367 applications), and 9 (Scientific, electronic devices – 433,503 applications). The class filing situation is similar to last year's statistics, where the same classes maintain the top positions. Comparison class-by-class between the two years, there are not many changes, except in one– applications in class 10, for medical apparatuses, have increased almost twofold, from 118,000 to 207,000, for obvious reasons.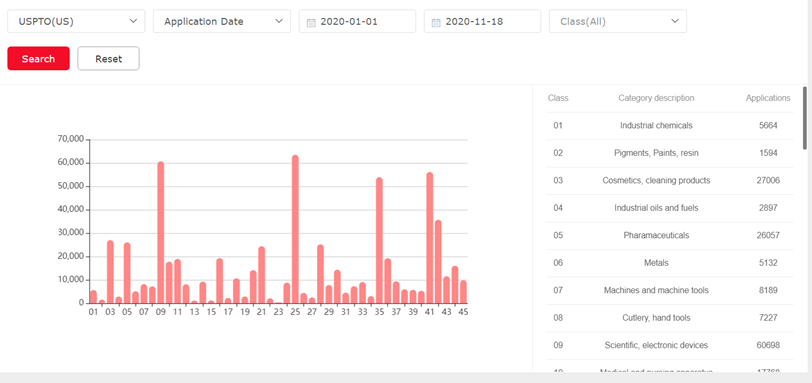 In the US, four classes are clear favorites with trademark filers year-to-year – 9 (scientific, electronic devices), 25 (Clothing, footwear & headgear), 35 (Advertising, office affairs), and 41 (Education, entertainment). In 2020, class 25 was the most popular with 63,502 applications, followed by class 9 with 60,698 applications, and class 41 with 56,131 applications. In 2019, the numbers were quite similar - class 9 saw 59,289 applications, class 25 – 53,988, class 35 – 53,788 and class 41 – 53,834. As in China, class 10 in 2019 saw 10,795 applications, increasing in 2020 to 17,786, signifying an interest to register medical devices in the face of the pandemic.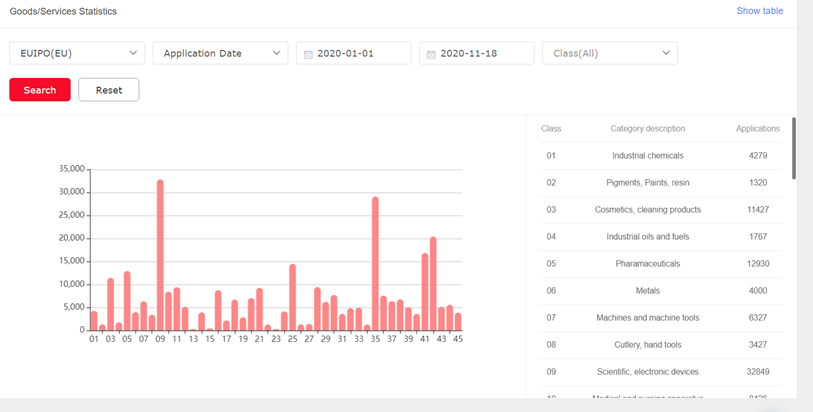 What was 2020 filing like in EUIPO? A few classes stick out – same as in the US and China – 9, 35, 25 and 42 (Design, consulting and development). As in the other two jurisdictions, there are no drastic changes in the top performing classes year-to-year, only a steady increase, following the general trend. Class 10, as in other jurisdictions, also saw in increase in applications at the EUIPO. In 2019, the number stood at 5,038, increasing to 8,426 as companies seek to register medical devices and combat the pandemic.
Although the global economy no doubt took a hit in the past year, trademark filing statistics in three of the largest jurisdictions for IP indicate that in the grand scheme of things, the world of business is optimistic and continues to develop and protect its IP domestically and abroad (China especially continues to be the top foreign filer in both US and EU). Despite the grim news from EU and US regarding the spread of the virus, IP lawyers continue to work from home to file applications and businesses continue to invest in their IP protections. The only indicator suggesting that a global crisis is going on is the uptick in Class 10 filings for medical devices. Once the pandemic is a distant memory, the trademark filing statistics from the tumultuous 2020 will barely register on researcher's radars.
The data in this article was provided by Kangxin IP Platform, where any registered user may explore trademark filing statistics in over 30 jurisdictions, and complete a full range of trademark services globally.